This little cutie will brighten your day!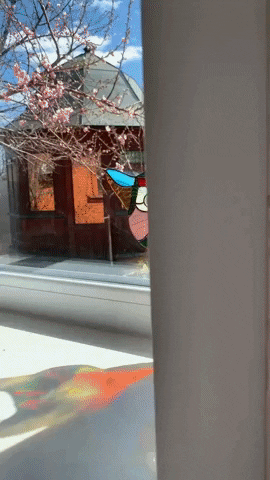 Owning a cat is good for your heart. They, in particular. lower your stress level and lower the amount of anxiety in your life. This is why most people love cats madly. This gorgeous stained glass suncatcher is a beautiful decor for your home. It will pass the coziness and peace to the entourage of your house. Please yourself or your loved ones with this lovely unique cat ornament suncatcher and keep in mind, he sees you!
FEATURES
HANDCRAFTED - Stain glass window decals handmade with great love by our craftsmen using the "Louise Tiffany Method" technology.
EYE-CATCHING DESIGN - Our stain glass cat is the most attractive and beautiful of all that you met around.
UNIQUE DECOR - Organically and stylishly complement the design of both an adult room and a nursery.
CONVENIENT MOUNT - You don't need to worry about how to mount your cat, with a reliable suction cup it will not fall off 10 minutes after fixing.
GREAT GIFT - Surprise your loved ones with incredibly beautiful and stylish packaging, will not leave indifferent any recipient of such a gift.