Led Flashing Jumping Rope Ball
Get ready for a fun way to play and enjoy cardio with this Led Flashing Jumping Rope Ball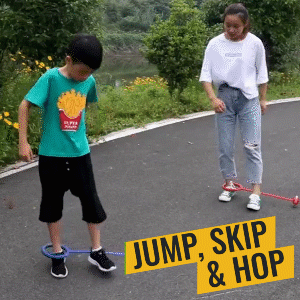 This unique toy will be a piece of fantastic exercise equipment for both adults and kids. Great family bonding!
FEATURES
✅ Comfortable: This hopper ball has a 5.5-inch diameter ankle ring that easily slips over most feet. The lightweight plastic ball swings easily, so it doesn't hurt on impact, and the cord on this skip ball toy is gentle on the legs for safety.
✅ Durable Skip Ball Toy: Crafted with sturdy plastic, these skip balls are fantastic exercise toys for kids and adults. Each skip-along jumping toy features a durable cord, and they are easy to clean and maintain so you can always enjoy fun cardio.
✅ Flashing Lights: The ball on the end of the rope comes with a LED light, which doesn't need batteries, it will sparkle when it contact with the ground while playing.
✅ Fun for Everyone: Whether you're looking for a fun new exercise or the perfect way to get kids outside, this swing ball for adults and kids is perfect for everyone. It can be used at schools, camps, or just in your backyard!