MULTIPURPOSE DOOR RACK HANGER
This Bag Door Rack helps organize your caps, hats, clothes, bags, ties, and so on in a neat way.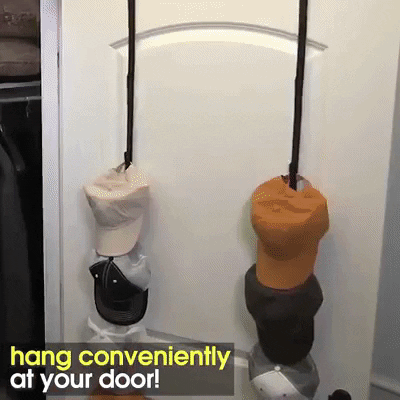 Keep your closets clean and clutter-free with this Multipurpose Door Rack Hanger. Hook around doors, mount on walls, or hang in closets to safely store your favorite caps. Most times the hook will fit 2 caps at a time, maximizing space-saving.
FEATURES:
✅ High-Quality: This organizer is made of high-quality nylon fabric, very durable, and easy to clean.
✅ Handbag Organizer: The stainless steel hook on the cap organizer can easily hang over any closet rod and door, No tools required, just hang it up. The hook is very sturdy, will not falling down.
✅ Space Saving: Maximum utilization of vertical space, perfect for small closets or doors. Large capacity, space saver, durable, convenient, and very environment friendly!
✅ Multipurpose Organizer: Perfect for handbags, satchels, slings, hobos, backpacks. It also has added mobility with a foldable design. Suitable for both home and travel, easy to carry!