Keep Your Virtual Meetings Professional With Portable Webcam Backdrop!
Work from home means more video conferencing than ever. In fact, virtual meetings of all kinds are becoming more commonplace, from online education to trade events and conferences.
Technology allows us to work, learn and meet virtually but keeping a professional environment can still be a challenge but with this Personal Green Screen, you can choose your own setting anytime and anywhere.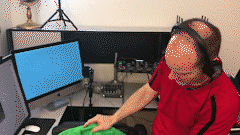 FEATURES
✔ No Distractions: The Portable Webcam Backdrop eliminates all distracting background visuals, making you look more professional so you can relax and be productive.
✔ Fits Onto Any Chair:  The integrated stabilizer and adjustable horizontal and vertical straps ensure that it can be attached to almost any chair on the market.
✔ Setup / Takedown in No Time: Setup and takedown take less than 10 seconds. Just open up the unit, place it around the chair, adjust the integrated stabilizer, and you are good to go. When you are done, fold up the unit and place it in the included storage bag.
✔ Portable: Unlike the bulky backdrop setups and pull-up systems for background replacement, the Portable Webcam Backdrop is able to be neatly folded up after each use and placed in its included storage bag. This allows you to reclaim your workspace and bring out the Portable Webcam Backdrop only when you need it.