Vehicle Safety Belt Harness
Keep You and Your Pet Safe and Sound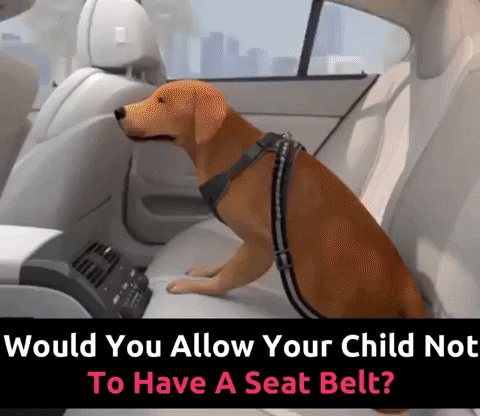 If you regularly travel with your four-legged companion, you likely need to guard them as much as possible in your vehicle. Use our dog seat belt can prevent them from jumping out the window, protects them from sudden jerks. And above all, in case of a car accident, it protects them from getting hurt.

FEATURES
✅ High Quality and Unique Design:
The buckle of this seat belt is sturdy and the hardware is all metal while the straps are made of durable nylon. The reflective stitching design makes it great for night time use. The elastic bungee helps the dog prevent jerking with a sudden movement.
✅ Adjustable Length:
  With an adjustable buckle on the straps and the elastic bungee inside, this dog safety belt can be adjusted from 
 20.87 inches to 29.13 inches
. Good adjustable length so the dogs can get themselves comfy without restricting themselves.
✅ Keeping Safe and Comfortable:

 
The dog accessory helps to ensure the safety of your pet and prevent you from distracting when driving. It allows your dog to sit, stand, lie down comfortably or reach to see out the window but keeps the dogs from jumping around in the car. Easily to fasten it onto the dog harness via the 360-degree rotation carabiner.
✅ Easy to Use:
 It can be clipped into the car seat belt buckle easily and you can fasten it onto the dog's harness via the metal quick release buckle. This item includes 2 pieces of safety seat belts, you can leave one dog seat belt buckled in on each side to secure your pet.
✅ Universal Fitting: Designed with a width of 0.82 inches belt clip, which can be plugged into most vehicles' seat belt receptacles.